Las Colinas Homes For Sale

The Las Colinas Clock
The Las Colinas homes are in an area of north Irving that is a vibrant community, ranging from one of the Southwest's premier business centers (ExxonMobil, Verizon, Commercial Metals, Fluor and Kimberly-Clark, Mission Foods, Trend Micro and La Quinta Inns and Suites) to modern master planned communities of luxury homes. Las Colinas was developed in 1972 by ranching millionaire Ben H. Carpenter, after whom the main freeway through Las Colinas is named. Las Colinas homes can range from the late 1970s built to brand new construction. Las Colinas has four gated, golf course communities, including Hackberry Creek, Cottonwood Valley, Fox Glen and Fairway Vistas. Las Colinas homes prices will range from the $300,000.00s to over $2,000,000.00.
A brand new Irving Convention Center has been built in Las Colinas and a new entertainment center is also planned.

Irving Convention Center
One of the more famous landmarks of Las Colinas is the Mustangs of Las Colinas.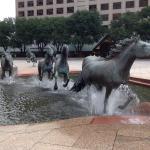 Mustangs of Las Colinas
Bookmark this Page For Las Colinas New Listings For Sale
Current Inventory of Las Colinas Homes For Sale
Check back to this page often. And if you have any questions about Las Colinas homes for sale please contact me at gerald@d-fwhomes.com or call 972-402-4124 or cell – 972-989-6999.
Las Colinas New Listings