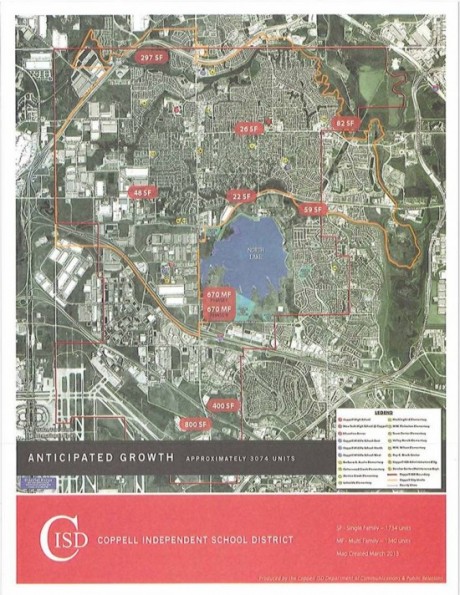 Coppell New Home Developments
The Coppell real estate market is similar to many northern Dallas – Fort Worth suburbs in that the real estate market
has tightened up significantly and developers and home builders are scrambling to find land for new subdivions.
There are several Coppell new home developments under way and in the planning stages at this time.
Here is a breakdown of some of the Coppell new home developments:
Darling Homes has currently been building, and is about 65% sold out in the phase one of their townhomes at Main Street in Old Town. The townhomes start in the lower $320,000.00 price range. The City of Coppell has given conceptual approval for the next phase of 64 lots, which will be built on east side of Coppell Road.  Darling Homes will be building patio homes on 12 lots on the east side of Coppell Road.  The builder for the remaining 52 lots has not been disclosed.
Fifteen lots are currently for sale in Bellacere on Sandy Lake Road, west of Denton Tap. The lots are for sale in the $185,000.00 to $250,000.00 price range.
Another new subdivision is being built by Toll Brothers at Carter Estates. This Coppell new home development in south central Coppell will consist of 22 beautiful, wooded, larger lots with prices expected to start in the $850,000.00 range.
Normandy Homes at Lake Vista will be selling homes on 38 lots, starting at the $320,000.00 range. Although this Coppell new home development is within the city limits of Coppell, it is however, in the Lewisville Independent School District.
David Weekley Homes is underway developing Ridgecrest Estates at the northeastern corner of Sandy Lake Road and Lodge. Homes will be built on 60 feet wide homesites with prices expected to start in the $550,000.00 range.
Belmont Landing is a proposed 55 unit single family home development for the over 15 acre tract of land along Belt Line Road, just west of MacArthur Blvd. in southeast Coppell.  The developer is Billingsley Cornell Capital.
King's Lake is a proposed 58 unit single family home developement with three common areas on the south side of the 121/Sam Rayburn Toll Road, between Magnolia Park and Westhaven.  The land sets on 22 acres zoning will need to change from retail to Residential Urban Neighborhood.
And finally, the last Coppell new home development is expected to be built by Standard Pacific Homes, and other builders to be announced.  There will be approximately 296 homes at Westhaven in the far northwest corner of  Coppell, along Highway 121/Sam Rayburn Tollway. Prices are expected to start in the upper $300,000.00's and go to $500,000.00's price range, however, plans and pricing will not be available until mid-year 2013.
If you'd like additional information on these Coppell new home developments, or any Coppell homes, please contact me at gerald@realtydfw.com or 972-402-4124 or 972-989-6999.
Incoming search terms:
westhaven coppell
new houses being built in denton tx for sale